Because many have asked us what we did? where we stayed? what parks we liked? What restaurants we ate at? Did you use the meal plan?  and so on
 yes…if you've never been you need an itinerary or you might miss something.  Doesn't mean you have to be completely anal about it, but if you walk in without a plan you'll be kicking yourself later and no I'm by far NOT a type "A" personality …many call me a 'type Z' because I'm SOOO not an itinerary type girl like EVER…except now for Disney (my sister would have been so proud!!).  So here's some parts of our plan because a lot of people have asked.  First off we booked just through Disney and because it was an off season week we got our meal plan for 'free' (is anything REALLY free?) because we were staying at a Disney resort BUT we found that deal one night, & it was gone the next day.  Hubby called Disney (always call to see if they can offer you any better than online) but they couldn't offer us that deal, he then did a live chat online with a Disney person and they sent him the link for that deal so we could still get it!!  YAY!!! Our plan consisted of 1 snack, one counter service (aka fast-food) and one table service (finer dining requiring reservations, cloth napkins, more than one fork…and no plastic…) meal a day.  You get that for each night you book at the hotel.  We had 3 nights booked with 4 days of park tickets so we had 3 days of meal plan. And let me tell you we had NO trouble making that stretch to 4 days of food.  None!  Oh my the amount of food is insane!  Plus snacks can be huge if you play it right too!!  One thing Disney does NOT do is scrimp on the portion sizes!!!   So here's the start of our Mousey fun….
Monday:  Drive to Orlando stay at a Hampton Inn and Suites 4 miles from the park (have I ever mentioned how much I love trips with my family.  We have never owned a car DVD player and we don't take loads of toys.  Books & books on "tape" for all of us to listen to yes, but other than that it's just chatting, singing and hanging out…and I LOVE it!!  We've done that since they were born and I truly am so thankful.  I just adore the time.  My favorite…listening to my kids playing together using their wild imaginations just hanging out together Oh my…the joy it brings to their Daddy and me!!! We just look at each other from our seats up front and grin from ear to ear!)  Took us about 12 hours with the baby, and stopping for meals (we chose to do places like Olive Garden for meals instead of fast food to give everyone good breaks. Mainly the baby!)
Tuesday:   Wake up, enjoy a big continental b'fast at the Hampton Inn (they even have Mickey Waffles!!)
arrive at our resort on Disney property around 8am and finish the check-in process (you can start it online before  you leave home) and find our room is actually already ready for us.   We chose to stay at the All Star Music Resort. After looking at all of the nicer resorts and being tempted by things like overlooking the safari area of Animal Kingdom, etc we decided to go with the All Star Music because they had 2 room/2 bathroom suites.  I'll tell you more about that later.  But we were pleased with our decision and the kids loved it!  Plus we had our own TV, etc to watch after the kids were sound asleep in our own room (with a DOOR!!)
Hop on the resort bus to Magic Kingdom.  We planned to bus to Magic Kingdom even due to the mixed reviews of the speed of the buses because even if it was slow, the parking lot at Magic Kingdom is far away so it's fastest to just ride the bus there. But, no problem, the bus was waiting on us and we hopped right on and off we went to begin our fun!
We were thrilled to learn that most all the rides in Magic Kingdom were baby friendly.  We were also pleasantly surprised that we didn't have to wait for hardly ANY rides.  First off the crowds were 'light' (remember we went an off week…the joys of homeschooling!).  Second we were baffled why everyone wasn't using the fast pass option. It was a breeze.  So here's what we would do.  Because we had a baby Hubby would go get a fast pass.  He and the big kids would use the fast pass to ride a ride and as they got in line they'd ask for a rider switch pass.  They'd ride the ride and then, because we have a baby, the kids would then come back to me I'd pass the baby to hubby and then the kids and I would ride the ride, walking through the fast pass line again.  Disney does the rider switch for anyone with a child too small to ride so that each parent can experience the rides without standing in any long lines a couple of times.  Our kids LOVED the perk of going with a baby brother because it meant riding a ride twice just walking right up between the fast pass and the rider switch pass!!  RULE OF THUMB…FASTPASS PEOPLE!!  FAST PASS..it's easy as can be and makes no sense whatsoever not to!!
Ride lots of rides (longest ride wait the entire trip was here at Magic Kingdom for Splash Mountain…17 min and that included a long walk to get to the ride turnstiles, etc)
Eat lunch at Cosmic Rays:  We used 3 counter service meals (doh…should have just used 2).  We got 3 half chicken and rib plates.  It was TONS of food, kids nor I could eat it all, had to throw some away!!  The drink that comes with the meal is plenty large enough for my kids to share!!  PLENTY!!  The Light Pomegranate Lemonade was a hit by the way for a drink. Yum!!  Anyway the plate is half a rotisserie chicken, a small rack of ribs, and mashed potatoes and green beans.  Then we got sugar free mango gelato for dessert (It was quite yummy!!!).  There is a big island for sides that has lettuce, sauteed onions, mushrooms, tomatoes, bbq sauce, honey mustard, etc.  My kids both love to just eat lettuce so I got them some of that for a side too (no dressing they find dressing gross)
After a day of fun we headed back to the hotel around 7pm to get cleaned up for our dinner reservations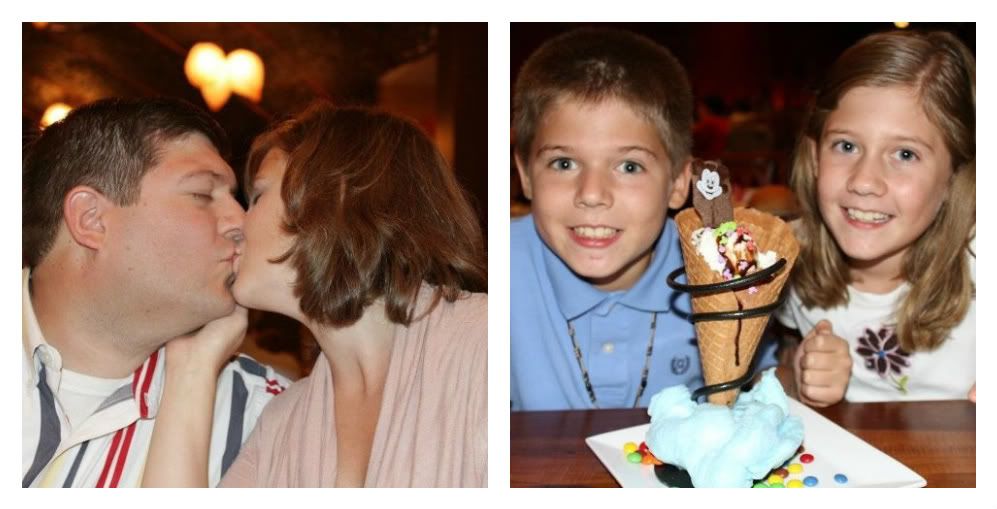 Dinner reservations at Kona at the Polynesian Resort (we'd really wanted them for Ohana, but you must decide to go to Disney long before a month before to get reservations there…plan ahead if you want somewhere like that…but I'm type Z and really didn't care and we'd just decided on a whim to head to Disney afterall).  I got the Shrimp and Scallops, Hubby got the Ginger Crusted Ribeye and the kids got Pan-Asian noodles with shrimp that they shared & were PLENTY filled up (as in neither fully finished theirs)!!! We all really enjoyed our dinners!!  For Dessert the kids got the "Kona Cone" (OH MY!) and hubby and I shared the Kilauea torte (fair) and the Chocolate banana Creme Brulee (YUM!!)
Back to the hotel to CRASH (no energy or time to swim tonight)
And thus concludes our first full day of Mickey Memory fun! More to come!!
To sum it up:
Disney's All Star Music Resort
(FYI we stayed in the Calypso building on the opposite side of the building from the Calypso pool (come to think of it we never even saw the piano pool…so little time so much to do!!)  But I highly recommend where we stayed in the resort (you can request).  It was close to the pool, yet not to the late night noise from the pool.  It was close to the parking lot.  Close to the buses.  Close to the food-court.  Etc etc!!  Yet nice and quiet for sleeping and if we ever had had a chance to go to the room for a nap, that to.  but we didn't!  Great for families that want a bit more room to spread out than a typical hotel room allows!!
Cosmic Ray's in Tomorrowland in Magic Kingdom for Lunch
.  Huge portions, fun atmosphere, you will walk away feeling as if you made the most of your Dining Plan most likely! Not the most amazing of food, but as far as 'fast food' goes it was good and the little 'concert' and fun atmosphere (castmembers having hula contests, etc as we waited)
**Oh and note we didn't use a single "snack" from our meal plan this day.  NO NEED…we'd had plenty of food!!  More than enough really!